Meisha Herron
studied guitar at Columbia College Chicago.  All the while, she further increased her musical palate by listening to albums and playing with other musicians that she met on Chicago's South side nightclubs. She recently opened up for Buddy Guy in January of 2023, at his internationally known jazz and blues club, "Legends". She now performs primarily in Virginia (but WILL travel). She is perfecting her own style of guitar playing and singing which encompasses her early blues, soul, jazz and rock influences while allowing her to incorporate her creative ideas within the songs.  
Her originals songs are songs about love, nature, community and family.  She released a 6 original song EP recorded live in Chicago with acoustic guitar and a drum accompaniment. In 2021, she released a single which can be accessed through most streaming services. The title track is called "Missing".
Notable shows were several "one woman show" concerts at Colleges and Universities throughout the Midwest, including Ohio State University. In 2008, she performed at the famed Chicago Blues Festival. She has played with many accomplished musicians, including Diane Ellis (Jazz saxophonist) as one of The Jazzy Ladies (an all female band) and several local bands.  She's opened up for Cashbox Kings at Legends, Toronzo Cannon at House of Blues Foundation Room Stage, Lil' Ed and the Blues Imperials and others.  She was a regular acoustic performer at Buddy Guy's Legends and recently opened up for him as a solo acoustic act at his last residency at his club, Legends, in Chicago.. 
In 2018, Meisha visited the Northern Shenandoah Valley regions, fell in love with the great acoustic music scene and she now performs regularly at wineries, breweries, outdoor festivals and local event spaces t venues throughout Virginia – including Northern Virginia, Central Virginia and Maryland.  In 2019, she performed at George Washington University's Alum celebration in front of 1500 attendees.  In 2020, she also played at the annual Family Day in Winchester's Douglass Park. Just recently in 2021, she opened up for the Four Tops at Shenandoah Valley Music Festival in Orkney Springs, VA.
She recently opened up for The Spinners at Orkney Springs music fest 2023!
 Her specialty is acoustic performances, when she can deliver songs and make them her own. If you get a chance, you should check out her live performance when she's in your area!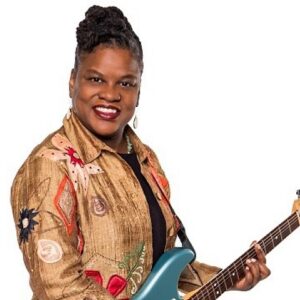 She plays solo, duo, or with a full band! 
Musicians: She has cool "go-to" musicians that accompany her when the time is right. Together, they have a nice original sound that encompasses blues, improvisational jazz and soul music.
Bryan Coberly, a self-taught drummer who was in several indie-rock projects in Chicago before going into the corporate world. Now Bryan is back on the music scene in Virginia with a "second life" as a drummer and percussionist and enjoying the experience of performing live at different venues.
Contact Meisha to learn more!